Your bear, goose or duck hunting adventure at Goose Haven Canada Outfitters in
Saskatchewan, Canada is comfortable. We have 2 cabins we call "the lodge". The
larger log cabin has 4 bedrooms and sleeps up to 8 people. The smaller pine cabin
has 2 bedrooms and sleeps 4. The accommodations in both cabins include; a Kitchen
sink, refrigerator, great room, fireplace, bathroom with shower. We can comfortably
accommodate up to 12 guests.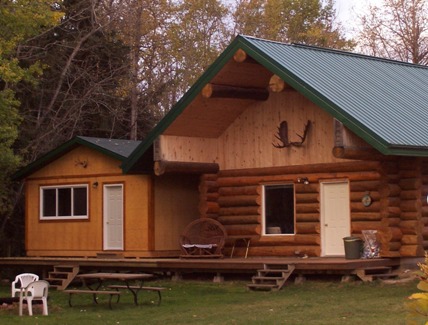 The area immediately surrounding the duck hunting lodge has a clay pigeon
thrower, pattern board, picnic table, camp fire pit, horse shoes and dog training
equipment. When you are not waterfowl hunting you can relax in the private and
peaceful atmosphere at Goose Haven Waterfowl Hunting Outfitters. Your duck
hunting lodge will be stocked with fresh baked pastries, muffins and cookies. After
a memorable day of Canada goose hunting and duck hunting you'll enjoy a home
cooked meal in the main house dining room just across the lawn. A large dining
room serves as a place for good food and relaxation. After a successful day of
goose hunting and duck hunting, your waterfowl hunt is complete with a fantastic
supper, and delicious desserts.


We include bird cleaning in the price. You won't get nickle and dimed to death at Goose
Haven Canada. We have waterfowl cleaning facilities where your ducks and geese will be
packaged, frozen and ready for transportation. Everything we harvest must be cleaned
and "put to good use". If you are not keeping your waterfowl meat, we have numberous
locations that happily accept waterfowl meat. We take care of any meat donations. As a
full service outfitter, we take care of the dirty work.
Our area of west central Saskatchewan, Canada is a place of unspoiled beauty. The land
is rugged and wild. Wildlife is everywhere. The area is full of deer, moose, bear, red and
grey fox, hawks, eagles, elk and of course all kinds of waterfowl. Hundred of thousands
of duck and geese converge on Goose Haven every year. The unbelieveable number of
waterfowl is something to witness. At night, the northern lights dance in the sky and a
coyote can be heard in the distance. A visit to Goose Haven Canada Waterfowl Outfitters
is not just a fantastic duck and goose hunting trip, its an experience.