Saskatchewan Waterfowl Hunting "IN YOUR FACE"!
Waterfowl Hunting Guides & Waterfowl Outfitters
CANADA WATERFOWL HUNTS
What To Expect
---
The guided waterfowl hunts at Goose Haven Outfitters are spectacular! Canada offers incredible duck and goose hunting, and our location in west-central Saskatchewan provides some of the best waterfowl hunting in North America.
The birds are abundant and the limits generous. We operate our waterfowl hunting season from September 1st through the 3rd week of October. We provide two waterfowl hunts a day (except for the last day) – Canada goose or snow goose hunting in the morning and duck hunting in the afternoon. The action is fast and furious. You can expect a mixed bag of waterfowl with a variety of ducks and geese.
The most common question we are asked is "When is the best time for Saskatchewan goose and duck hunting?" The honest answer is "The waterfowl hunting is excellent all season long." It is more a question of what type of ducks and geese are in the area at a given time period. We consistently shoot limits throughout the season. Our waterfowl guides will see almost every North American species of duck and goose over a typical season. Clients often rave about how many different species of ducks they harvest in one afternoon of duck hunting.
Early in the season we see a lot of cackling, lesser and greater Canada geese, white fronts (specklebelly), teal and wigeon. Mid-season we will see more snow, Ross and blue geese, as well as more greater Canada geese, gadwalls, pintail and mallards.  Later in the season brings the giant Canada geese – the flying 747s weighing around 20 pounds, greater Canada geese, mallards and some remaining pintails. Every year is a little different but our duck and goose hunting here in Saskatchewan is always AWESOME!
We employ the best waterfowl spotters and duck goose guides. Our waterfowl guides have more than 75 years of combined waterfowl-hunting experience. The waterfowl spotters find, locate and monitor movement of ducks and geese every morning and evening. They track and monitor feeding patterns and routes of travel. They identify which roosts are being used and exactly where the birds are in the field. We then coordinate the goose and duck hunts accordingly. As professional Canada goose hunting outfitters, we take you to where the birds are – right where they are! You can expect to be duck and goose hunting in a different location every day.
We provide our waterfowl-hunting guides with a full arsenal of equipment for any waterfowl-hunting situation. The hunting in our area of Saskatchewan is superb but it all depends on where you go and how you set up. We've discovered not all waterfowl outfitters are created equal.
At Goose Haven Outfitters we strive to be the best. Every detail matters when waterfowl hunting. You can be assured you will be in the right place with the right strategy and the right decoy spread. Don't just take our word for it. Call and talk to people who have experienced the waterfowl hunting with us. We can provide references on request. Our reference list contains virtually every client who has hunted here. This is the best duck and goose hunting in Saskatchewan delivered right to your blind.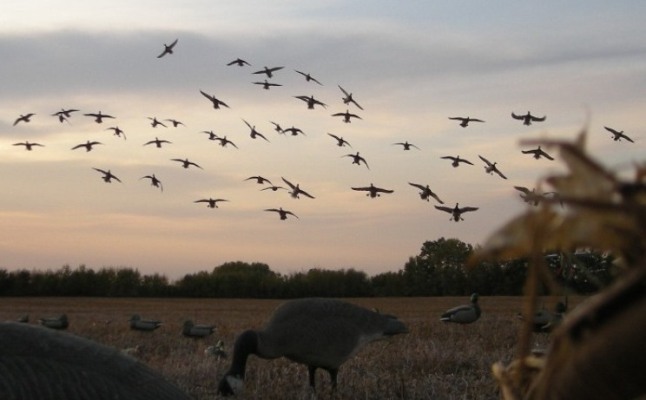 The Location
---
The duck and goose hunting at our location is dynamic. We have a constant influx and outflux of ducks. Spotting (scouting) is vitally important and our spotters and guides constantly monitor bird movement.
The goose hunting in Saskatchewan is usually in fields. Our guides have a wealth of experience and KNOW Saskatchewan goose hunting, which is unlike any other anywhere else. They can adapt to any goose-hunting situation. Our waterfowl spotters and goose guides maintain close communication to assure maximum success. Careful coordination and planning is required for each day of goose hunting. The guides will determine a strategy based on wind direction, terrain, where the geese were coming from and where the geese actually were in the field. They will put you on the "X".
We use layout blinds, bale blinds or natural willow blinds. The set-up includes a full array of goose-hunting decoys and equipment. We use full-body Bigfoots, magnum shells, flags, motion decoys, silhouettes and flapper decoys. Goose hunting in Canada over water is something our clients often request and we can usually accommodate but it depends on the location. An intermediate watering hole is fine, but we NEVER hunt geese on their roost. Be very cautious of outfitters who hunt on a roost. This is a red flag of inexperience. If hunted on the roost, geese will usually leave the area and may not return the following year. The rule of thumb is: Go goose hunting in a field and the geese find a new field (and you can follow), go goose hunting on a roost and the geese find a new roost (and may be gone for good).
As one of the best waterfowl-hunting outfitters in Canada, we have the experience to achieve success and the professionalism to ensure our clients hunt in comfort.
Canada duck hunting in Saskatchewan is dynamic, and exciting. Most waterfowl hunting in Canada is similar. But in our area we seem to have a constant influx and outflux of ducks. We are located at the northernmost agricultural area of Saskatchewan. As the ducks and geese head south, we are the first grain, oat and pea fields they encounter. This provides fantastic duck hunting since fresh birds are constantly arriving.
Our waterfowl spotters and guides are the key to successful duck hunting. They must monitor, check and double-check ducks in the area. The guides have the experience to take you hunting in a variety of situations and they are fully equipped to handle any condition. You could be duck hunting on river banks, sloughs, potholes or beaver bogs.  We have access to duck boats with Mud Buddy motors for hunting in the big-water marshes. Our guides also will often coordinate hunts in wheat or barley fields where swarms of mallards are attacking the grain.
At Goose Haven, we don't take you duck hunting in a designated blind that gets hunted day in and day out, week in and week out. Our waterfowl spotters and guides find the best spots holding the most birds and that's where you go duck hunting!  As with our goose hunts, you can expect to be duck hunting in a different location every day.
At Goose Haven, the waterfowl-hunting opportunities seem endless. We design and implement a waterfowl hunting plan specifically for you. We want you to be part of the process.  Tell us your preference. Is it canvasbacks on big water? Teal flying in with afterburners on down the slough? Pintails and wigeon dive-bombing a marsh? Or swarms of mallards covering a barley field? We can tailor your Saskatchewan goose- and duck-hunting adventure to your preference. We have two well-trained hunting retrievers, but your dog is always welcome.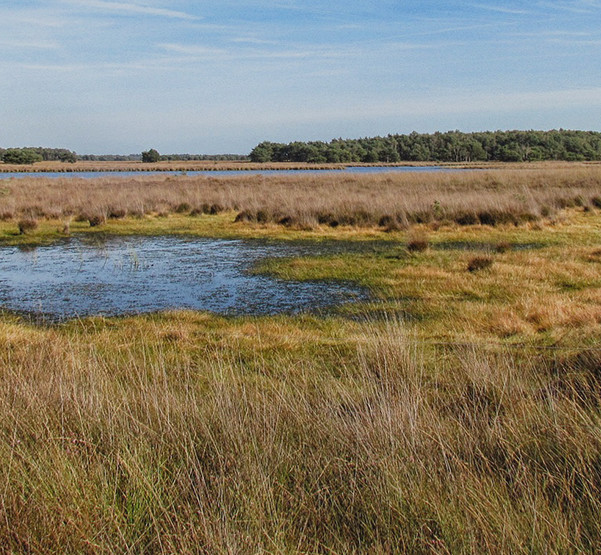 Sample Itinerary
---
Typical Day
Early morning – Coffee and breakfast snacks prior to departure

Morning goose/duck hunting

Late-morning brunch prepared by Chef Craig at the lodge

Few hours of free time; napping, catch the game, fishing, grouse hunting, side-by-side riding, skeet shooting, boat rides, long-range target shooting

Afternoon goose/duck hunt (if not limited out in the morning)

Dinner prepared by Chef Craig at the lodge

Daily reflection, story-telling and plan for next day's hunt
We try to hunt as close as possible to limit driving time.
We include bird cleaning in the price. We have waterfowl-cleaning facilities where your ducks and geese will be packaged, frozen and ready for transportation. Everything we harvest must be cleaned and put to good use. If you are not keeping your waterfowl meat, we have numerous locations that happily accept it.
WATERFOWL HUNTING PACKAGE at the lodge include:
Comfortable lodging and accommodations

Meals served in the main house dining room

Ammunition (optional)

Hunting license and waterfowl stamp

Bird processing (for take home and/or donation)

Guides

Spotters

Dogs (if available)

Field transportation

All required equipment
Excludes:
Airfare

Airport transportation
Firearm
Warm, waterproof camo clothing
Beer or liquor
Gratuity
All prices are in USD.
GRATUITY 
Gratuity is expected. Average gratuity is 10% of the cost of your hunt. As the outfitter we don't keep any tips. It all goes to the staff (guides, spotters, chef and housekeeper).
AMMUNITION PACKAGE  As a convenience to you, we can provide your ammunition, up to a case, for an additional $200. We supply high-performance 3-inch 12-gauge, steel shot, in 2s, 4s and BB.